11-10-2019, 08:28 PM (This post was last modified: 11-10-2019, 08:39 PM by Maurice Bendrix.)
This is probably pablum for most, but for those who're interested--my condolences:
Since I hate to fuss over every little dietary and exercise detail, I've created a somewhat loose/flexible framework by which I will measure compliance. I don't want to get lost in the weeds here, so I've draughted a set of five things I will monitor daily: these will, more or less, be my success metric. They are:
Drink 1 gallon of water a day w/ Linus Pauling vitamin stack




Monday thru Friday 30-minute workout




Fast twice a week for 24 hours




At least 100 grams of protein a day (except during fasting)




20 minutes of daily meditation



Many of these things are vague and possibly need elaboration: The Linus Pauling vitamin stack is taken from his 1986 "How to Live Longer and Feel Better." It follows (daily doses): 6 grams of vitamin C; 400 IU of vitamin E; 1 or 2 Super-B tablet(s); 25,000 IU of vitamin A; a mineral supplement. I realize there is probably more current science on the matter, but, honestly, I don't care. I'll defer to one of the most important chemists of the last century, since I've not the time nor the care to pursue this further. 
Fasting and protein recommendations are taken from Brad Pilon. He's pretty visible, so a quick search should render anything you need on the matter.
The workout is purposely vague. I'm certainly not the strongest nor the most fit person in the world, but I'm fairly well versed in matters of exercise. I'll keep it close to HeavyHands-style training, by way of Leonard Schwartz, kettlebell swings, and pushups--I currently do anywhere from 200 to 500 pushups a day.
The rest is common sense.
I'll try for pictures and measurements soon.
---
Currently going through Helen Gardner's Art Through the Ages and found this roman reproduction of a Greek statue--the dying Gaul, will aim for such form minus the vanquished pose.
[img]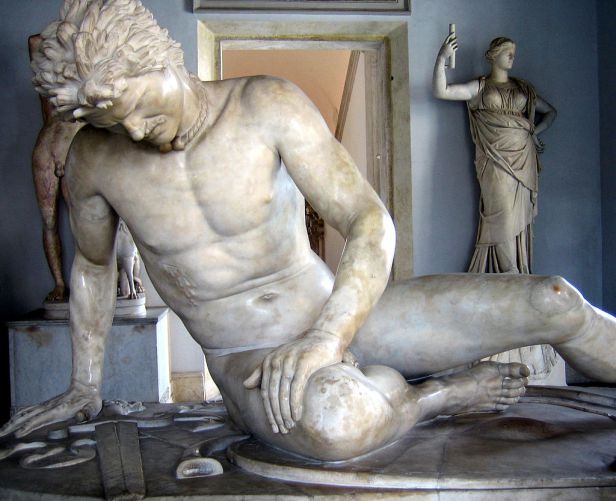 [/img]