11-25-2019, 12:45 PM (This post was last modified: 11-25-2019, 12:52 PM by SteveJabba.)
You may have heard that I've had sleeping problems basically for as long as I can remember.   I'm one of those people who legit does not need much sleep - no more than 5-6 hours per night...But often I cannot even manage this.  Sometimes it's been 2 or 3 hours...And even I cannot stand that.
I've decided I'm going to dedicate the rest of this year to solving this problem plus the weight loss, fitness, body.  I strongly suspect the FUCKING RIDICULOUS return of anxiety will handle itself naturally in doing this (infact this already seems to be happening).
To this end, I decided to try floor sleeping.  For those who don't know, floor sleeping basically means you sleep on the goddam floor.  Now, I decided to buy a nice blanket (about .25 or .5 inch thick) and the same size as a king size mattress.
I put that on the floor, alongside 1 pillow...And that's it.  For reference I sleep in the front room where it's darkest, on a wooden hard floor.  
I've done this for the past 2 nights and I can honestly say the sleep quality seems better than anything I've had in ages.  Admittedly last night I woke up at 3:30am, then back to sleep again until 6:30am..
But this is great for me.  Usually it's 4:30 am and I cannot sleep again.  And I feel more refreshed.
Now, I sleep in the fetal position - on side, knees towards chest but at different angles.  Arm outstretched under pillow.
Eventually I think I'll fuck the pillow off entirely.
Now you may be wondering how is this on the hip, the ankle, the lat where you sleep.  The answer is, it's fine.  The human body is designed to have contact with the ground in specific places as I've just indicated.  Think about what your bed does - spread out those contact points (if you sleep side on like I do).  
Do you think we slept in a giant bed in caveman times?  And did you know a large part of the world (including the Japanese) sleep on a tiny thin mat directly on the floor?
Beds like ours in the west are an anomaly.
Now, I also like sleeping on the floor because
I am attracted to the idea of asceticism.  
Asceticism Definition : 
Asceticism (
/əˈsɛtɪsɪzəm/
; from the 
Greek
: 
ἄσκησις
 áskesis, "exercise, training") is a lifestyle characterized by abstinence from 
sensual
pleasures
, often for the purpose of pursuing spiritual goals. Ascetics may withdraw from the world for their practices or continue to be part of their society, but typically adopt a frugal lifestyle, characterised by the renunciation of material possessions and physical pleasures, and time spent fasting while concentrating on the practice of religion or reflection upon spiritual matters.
Now I'm not there.  I am not religious or particularly spiritual, but I do think we are too fucking soft.  Within reasonable limits I want to push myself and introduce difficulties and hardship.  But actually, floor sleeping doesn't appear to be a hardship at all.  
Anything to make you a tougher and more resilient man.  In my opinion there's no reason for a man of 45, 50, 65 to be soft, weak or afraid.  I think by doing these kind of things one can stave off weakness and decay for as long as possible.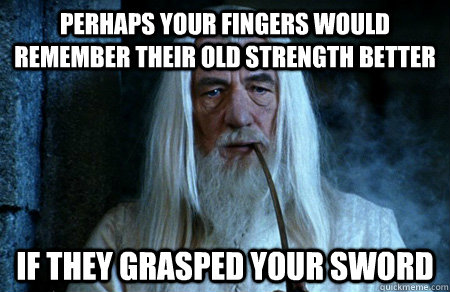 As I get older I don't want to fade away.  I want to get stronger with each passing year.  I want the remainder of my life to be better than the time which preceded it.
That's my pet philosophy.  I won't mention what idea I have for early next year once the cold fucks off a bit...A lot of you will think I am bat shit crazy.
Do you actually want to make progress with your goals : aesthetic, business, women, fitness?  

Check out the Secret Society VIP Members Club.
Check it out